Graphitized Multi-walled Carbon nanotubes (GMWCNT):
Product Code : TNGM2, TNGMH2, TNGMC2
Down load (pdf)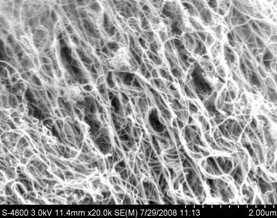 Product Description:

Timestub
TM
---Graphitized Multi-walled Carbon nanotubes---have three kinds of products: TNGM2, TNGMH2 and TNGMC2. TNGMH2 and TNGMC2 are TNGM2 hydroxyl and carboxyl functionalized products, respectively.
Graphitized multi-walled carbon nanotubes are purified under inert gas for about 20hours at 2800
°C thermal treatment
. The graphitized multi-walled carbon nanotubes have the highest graphite crystallization, the best electrical conductivity and the best inoxidizability. The electrical conductivity can be compared with graphite powder, and the ignition temperature can reach 800°C.
Property
Unit

GMWCNTs

Method of Measurement
TNGM2
TNGMH2
TNGMC2
OD

nm

8-15

8-15

8-15

HRTEM,Raman

Purity

wt%

>99.9

>99.9

>99.9

TGA & TEM

Length

microns

10-50

10-50

10-50

TEM

SSA
m2/g

>90

>117

>117

BET

ASH

wt%

<0.1

<0.1

<0.1

TGA

Ig/Id

--

--

--

--

Raman

-OH Content

wt%

1.85

XPS & Titration

-COOH Content

wt%

1.28

XPS & Titration

OD=Outer Diameter ID=Inner Diameter SSA=Specific Surface Area